De nieuwe dus nog kordate Britse regering heeft weer een nieuw leesbevorderingsplan gelanceerd. Volgens onderwijsminister
Michael Gove
zou ieder Brits kind minstens 50 boeken per jaar moeten lezen. Dat liet hij zich ontglippen tijdens een werkbezoek aan New York en
The Guardian pikte dat 22 maart jl.
op.
Waarom precies 50, dat zei hij er niet bij. Ook niet hoe dat te bewerkstelligen.
Journalist Benedicte Page was gis genoeg om meteen reacties te verzamelen. Daarom hier het hele artikel, voor het geval bovengeplaatste link niet meer zou werken:
Authors raise doubts over Gove's 50-book challenge
Michael Gove's remark that children should be reading 50 books a year is called into question by authors from Philip Pullman to children's laureate Anthony Browne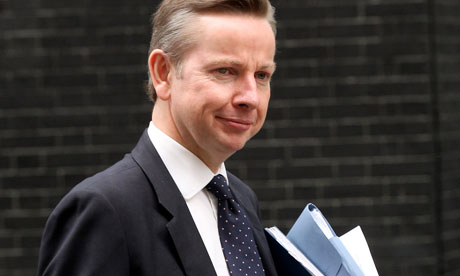 Education secretary Michael Gove has suggested that children as young as 11 should be reading 50 books a year – and that leading children's authors should recommend them.
"Recently, I asked to see what students were reading at GCSE," Gove said. "I discovered that something like 80-90% were just reading one or two novels – and overwhelmingly it was the case that it included Of Mice and Men. We should be saying that our children should be reading 50 books a year, not just one or two for GCSE."
"It's always good to hear that the importance of children's reading is recognised – but rather than setting an arbitrary number of books that children ought to read, I feel it's the quality of children's reading experiences that really matter," Browne said. "Pleasure, engagement and enjoyment of books is what counts – not simply meeting targets."
Alan Garner, author of children's classic The Weirdstone of Brisingamen, meanwhile, questioned the advisability of turning books into numbers. "Is any number a useful guide?" he asked. "The important aim should be a reading that is wide and deep rather than numerical. In my own primary school years I read everything I could find, which amounted to at least four books a week and as many comics as possible. The Beano and The Dandy were equal with Tarzan of the Apes, Enid Blyton, HG Wells, Kipling, wildlife books, fairy tales, encyclopaedias. This resulted, painlessly, in a large vocabulary, an awareness of differences of style, the absorption of grammar and syntax and an ability to spell."
Philip Pullman, author of the prizewinning His Dark Materials trilogy, agreed - and added a further caveat. "I'm all in favour of children reading books, of course, the more the merrier," he said. "What I'm wary of is that people will start saying that quality is more important than quantity. When it comes to reading books, children should be allowed – and encouraged – to read as much rubbish as they want to. But that can only happen when there are plenty of good books as well as rubbish all around them. Where are they going to get these 50 books a year from?"